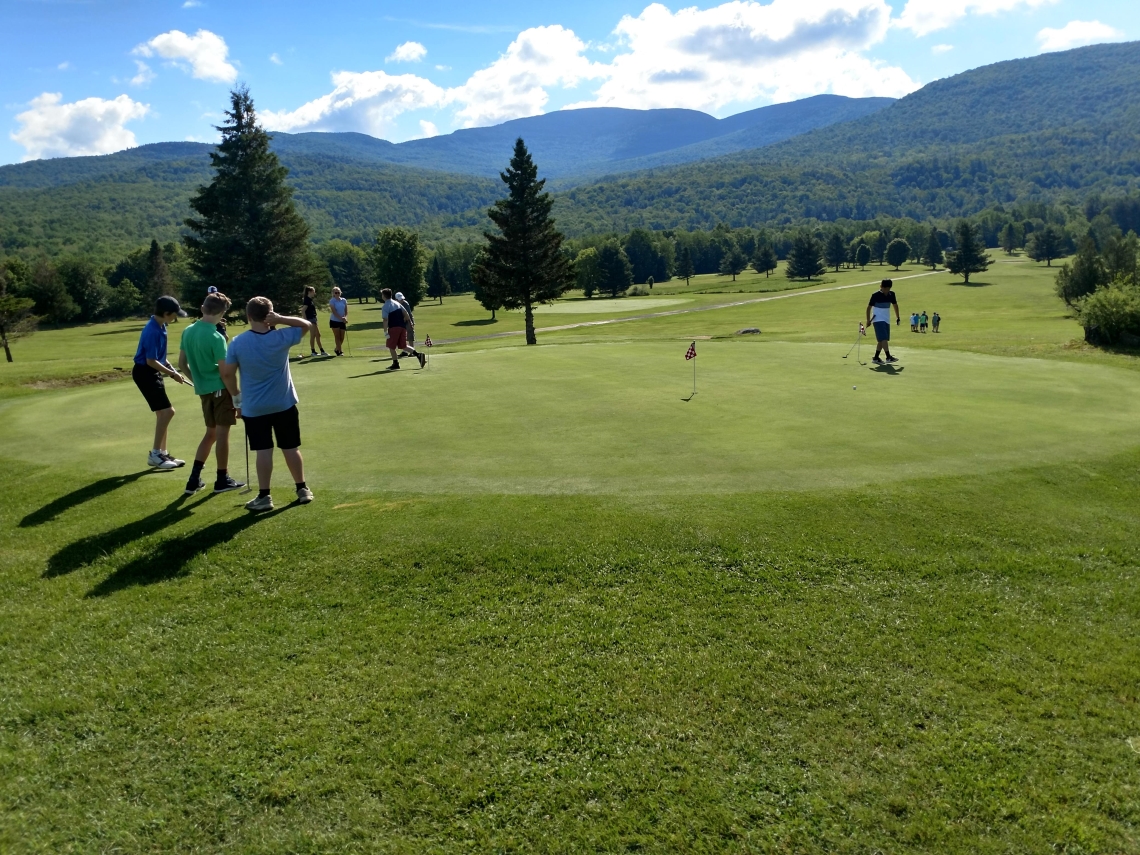 2021 Summer Golf Camp
Please note that all participants must have a mask in order to enter the clubhouse.
Our golf camp is for Boys and Girls ages 8-14 with all levels of golf experience. Camp includes Coaching and instruction on the basic fundementals from trained golfers, course play, and lessons on the etiquette of golf. Furthermore, each session will end with a fun 9 hole Mini-Tournament followed by lunch, prizes, logo shirt and a certificate of completion. This week long camp begins at 8:00 a.m. and goes to 11:30 a.m. with a break in the middle for snacks and refreshments. For more imformation please call the proshop at (802)434-4321 or email Mary at [email protected]
Download the Registration Form here
$200 for one Session
*Discounts available for multiple sessions and family of members
*Sanitized clubs are available for campers who do not have them!
*Ask about our Scholarship opportunities
2021 Camp Schedule
Session 1: June 21st - 25th(CLOSED) | Session 2: July 5th - 9th
(we accept a maximum of 24 golfers per session)
~Testimonial~ "My son, Ian, is a former multi-year participant, and for the past several years as a member of the MMUHS varsity golf team, a coach at the camp. His initial participation, andthe coaching and instruction provided by Jeff Brown and the other coaches/instructers, was an invaluable part of Ian's develping a true love and respect for the game, courses in general, and most importantly, his willingness to challenge himself to improve his game is his golfing experience in general. Golf camp, together with our frequent family golf travel, rounds, and outings, has given Ian the foundation not only to experience playing competitive varsity high school golf, but more importantly, to develop a love for a true lifetime sport and pleasure." Paul Volk
We will be following current ACCD GUIDELINES: Low-contact and no-contact businesses that provide instructional services to people participating in outdoor recreation – including but not limited to tennis, golf, horseback riding, personal training, and yoga – may provide outdoor instruction/practices to groups comprised of Vermonters, or those whom have completed the 14 day quarantine, of less than 25 people outdoors provided that protective measures are followed such as not participating if any signs of illness are present, practicing physical distancing, wearing cloth face coverings, and cleaning equipment and other shared items between usage. Participants must bring and use their own equipment (such as yoga mats, weights, jump ropes, etc.). Require an "arrive, play and leave" mentality. Groups may not gather before or after activities (no tailgating, etc.). All activities shall be conducted with proper physical distancing with participants no less than 6 feet apart.